The Legend of XERO
Singer, Rapper, Producer, Songwriter, Husband, Father, Philosopher, Theologian, Christ Follower, Super Hero, Revolutionary, Professional Monster Hunter
​
The Legend of Xero is a Mid-Michigan recording artist and member of the Black Sheep Squad. He has gained respect and recognition in the Michigan recording community from his insightful use of lyrics and music which combine genres to create his own sound. He brings relevance to the pop, electronic and rap music scenes.
​
TLOX IS A DARK POP/HIP-HOP ARTIST OF MANY MODERN CROSS GENRES, INTUITIVELY BLENDING EDM, INDUSTRIAL, POP, HIP-HOP, AND MULTIPLE EDM ELEMENTS (LIKE GLITCH, DRUM AND BASS, DUBSTEP, AND AUTOTUNE)
---
When XERO first uploaded this song on Audiomack, it was thought to be a way to vent some frustration among his peers and friends. 2 days later, we were staring down the barrel of
10,000 plays
, and no way to explain ourselves. This song just seemed to strike a chord with people.
​Today, it is the newest addition to XERO's library of single, available on all major outlets. Listen, and decide for yourself, to see if he was just Chasing Unicorns all along...
[READ MORE]
​
---
Powered by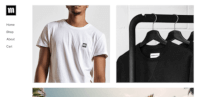 Create your own unique website with customizable templates.