Black Sheep Squad
---
Black Sheep Squad is a collaborative project that began in 2016 as Gen50/20, transforming into the line-up you see today. Each member of the Squad is an established Indie artist with his own history and experiences. Together they tell a story of the strive for holiness, christian community, social relevance, and inner peace as Christian Rappers in a culture that celebrates darkness and sin. Previously outcast, broken, defeated, and short-fallen, each member of the group knows what it means to embody the idiom of The Black Sheep, the Humility of Repentance, and (most importantly) what it means to answer to the Call of Christ. While there are some stars that shine brighter than others, there are also those who refuse to dim. This is the meaning of Dark White.
Download The Black Sheep Squad's 1st EP "Dark White" for free!
Powered by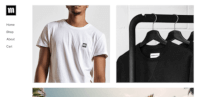 Create your own unique website with customizable templates.